From now on, you can capture every memory and tell your story in any perspective with JUST ONE POUCH.
learn more about how each lens empower your iPhone camera here: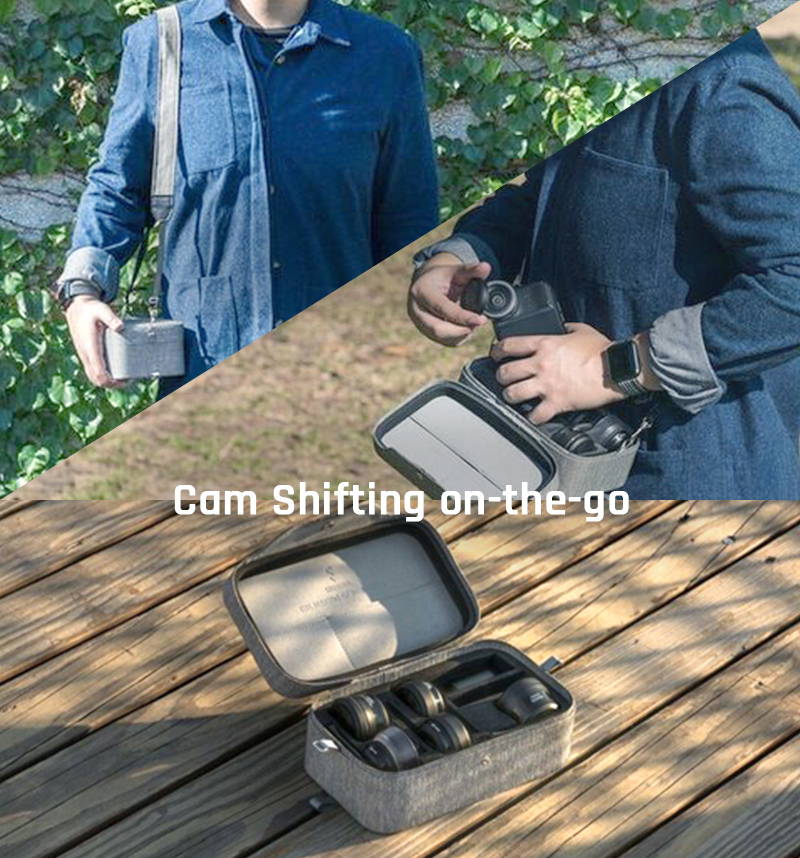 (Photos are for reference only, the carrying strap and charging cable are not included. Please refer to the tab "What is in the box". )
What is in the ShiftCam Premium Pouch?
7-slot Premium Carrying Bag (Strap not included)
Two ShiftCam Mounting Cases (for iPhone 11 Pro and iPhone 11 Pro Max)
18mm Wide Angle ProLens
60mm Telephoto ProLens
10x Macro ProLens
230º Full Frame Fisheye Advanced ProLens
75mm Long Range Macro Advanced ProLens
Adapters and Lens Caps / Lens Hoods for each of the five lenses
The Deluxe Lens Kit includes ShiftCam Mounting cases for the iPhone 11 Pro and iPhone 11 Pro Max, and all the necessary adapters to attach them. ShiftCam ProLenses are compatible with ShiftCam cases for previous model iPhone's, but the adapters are not included in this kit.
---
Quality Lens
Fits very easily and feels solid. Nice magnetic lens cover too. Clear shots and while it is fixed at 2 x zoom, you can almost double that using the phone's zoom to 3.6.
Good addition to the 5-in-1 case kit
Excellent quality optic
I was looking for a decent telephoto lens for my iPhone and wanted something a little more convenient that the clip on variety. The ShiftCam case and lens provided the solution. The quality of the optics is good but the most important thing is that it is so easy to attaché the lens I actually use it!
Telephoto Pro lens
Excellent quality to my photos on the iphone11 pro, really makes a noticeable difference.
Love it
Works great. Need to get a new Cam App though for it to work right.
High Quality Lenses with a Alu Body & Lens cap
The best portrait lens for shooting foodie , pets , online product something bracelet etc . It's enough natural blur on photo background .
Amazing Lenses on Prolens Series
I'm happy to using this 12mm ultra wide lens on my iPhone 7 Plus . The special for me is I can get primary camera photo quality / full resolution , and get a bigger aperture on the low light place.
( save yours pocket to upgrade to iPhone 11 )
Good lenses accessories not as good
The lenses are great but Shiftcam need to look at improving the accessories. The magnetic lens caps are not that good, the strength of the magnetism is weak and I can see them falling off in repeated use plus the fit of the phone cover is too tight and very difficult to remove and replace with my normal cover. As a result I don't think it will stand the test of time.
one good and one indifferent
the long rang macro lens is outstanding ... the telephoto not much different from the inbuilt telephoto.
Really Cheaper than GoPro
Design with a cool alu body , Nice 230 Full Fisheye lens without a vignette , and good for video record and photo shot on Special closeup object in 7.5mm example bigger flower with a super blue sky etc .